TFTalk is now OPEN!
Welcome to TFTalk.net, an all-new website based upon the Transformers franchise and other robot mecha fandoms!  This website is the new home of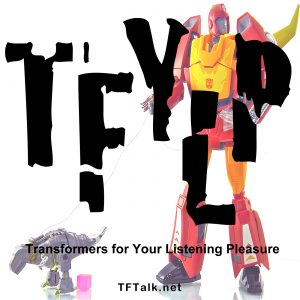 Transformers for Your Listening Pleasure (TFYLP), formerly of GeekExistence.com, and you will find the podcast available to listen to or download.  Much of the past library of episodes from the GeekExistence affiliation are available here as well.
Be sure to check out our message board forums, where you can discuss anything Transformers or mecha related! Follow TFYLP on Twitter @TFYLP, and there is also an open Facebook group available.  TFYLP streams live nearly every week on YouTube.
Recently joining TFYLP is Plasticon Reviews.  Plasticon1978 has a discussion forum here where you can post questions and comments about his videos.
More will be on the way as we begin the building process of this website, and as such I'm sure there'll be growing pains. Please be patient if some links don't work right away.  We're working on it.
In the mean time, please be sure to subscribe and rate TFYLP on iTunes and YouTube, and we'll see you on the boards!
Available episodes from current back to episode 45 (missing a few that got lost in the move) are available in the main podcast feed.  A "legacy" feed will be added later with much older episodes for you to download if you desire.
TFYLP Staff